---
Sophocles Alexiou is a professional, international photographer offering high end portraits, corporate head shots, family, and wedding photography. With over 20 years of experience across the world, Sophocles captures beautiful and creative portraits.
Based in SW London and Surrey. Available for commissions worldwide.
Enjoy the images and feel free to call or email.
Sophocles was born in Chelsea – not the posh part but in a basement and delivered by his father. A fitting start to life for someone who comes from a long line of peasants. Having Greek-Cypriot parents and growing up in a Cypriot community, there were only a few career options open for a smart Cypriot lad: Doctor, Lawyer or Teacher. Once it had been established that the gene-pool he had inherited would not stretch to such dizzy heights, great words of wisdom were spoken by his father – 'son, be a barber – everybody needs to have their haircut.'
Alas, the now established average Cypriot young man had become a Bouzouki player in a band playing at weddings and in the hashish dens of London. Ironically, this is where Sophocles developed his people skills so vital in social photography. The transition into photography was rapid and success followed quickly. The string of awards and qualifications he holds is proof of his passion for photography. He is, at the time of writing, the only Cypriot to hold Fellowships in Portraiture, so his father and mother and the entire village back home are well pleased and thank God he gave up the Bouzouki playing – the night life was no life for a married man.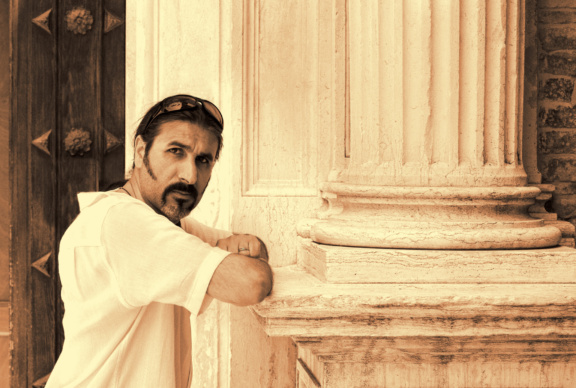 ---
Awards and Accolades
Winner of the Kodak European Gold Award
(3-time-winner)
Presented with Gold Medals from the British Institute of Professional photograph (4-time-recipient)
Peter Grugeon Award (2001)
Selected as Judge for the British Professional Photographic Awards
UK Photographer of the Year
BIPP Portrait Photographer of the Year